MP1 CONTROLLER
The Gulmay MP1 Controller is a microprocessor based controller designed for use with Gulmay high voltage X-ray generators. Available as a 19″ rack-mount unit or as a stand-alone controller, the MP1 is factory programmed for use with over 110 x-ray tubes.
The MP1 provides dedicated control of all generator functions through a rugged front panel designed to withstand the harshest of operating conditions. Large, bright LEDs provide clear indication of kV, mA, time and system status in both light and dark ambient environments. An RS232 interface provides constant system monitoring and PC control.
The MP1 constantly monitors generator status and interlocks to provide the highest degree of system safety and reliability. Tube software data is fully controlled by Gulmay, ensuring quick and straightforward integration of new and modified x-ray tube specifications.
8 OPERATING MODES
Manual
Warm Up
Radiographic
Fluoroscopic
Auto Watt
Fluoro Auto Watt
RS232 controlled Fluoroscopic
RS232 controlled Radiographic
5 WARM-UP MODES
Manufacturer default
Linear warm up with normal ramp down
Exponential warm up with normal ramp down
Linear warm up with ceramic tube ramp down
Exponential warm up with ceramic tube ramp down
FEATURES & BENEFITS
Optimal tube conditioning via fully automated warm-up routines safeguards operation and maximises tube lifespan
Over 110 x-ray tubes currently available. Additional tube programs can be added by the factory as required
Warm-up, error and operator activity logging allows for efficient system diagnosis
kV and mA waveforms prior to an error occurrence are stored graphically in the log to aid system fault diagnosis
Special start options for dose control systems
kV resolution programmable to 0.1kV, mA resolution programmable to 0.01mA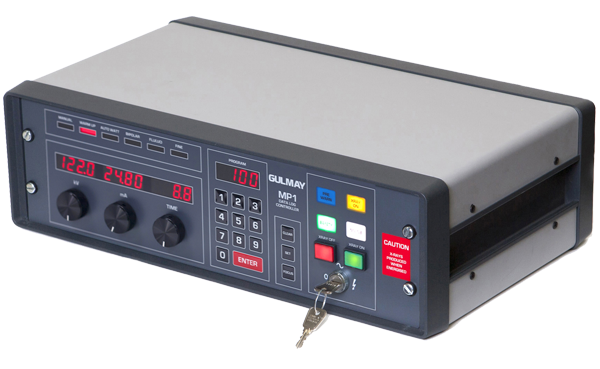 PRODUCT REQUEST
Please fill out this form if you would like more information about the MP1 Controllers.